I Don't Wanna Be Your Girl No More
Monday, April 11, 2016
It has been a while since my last Music Monday, but I am back for April!
---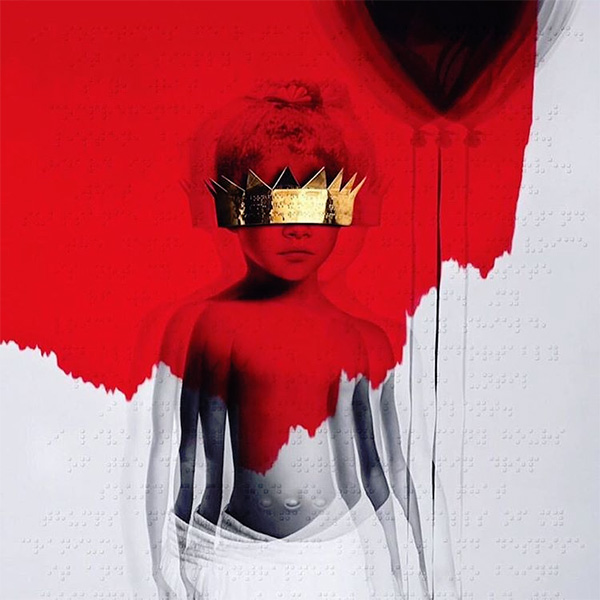 I wasn't checking for this album and even when Work came out I still wasn't checking for it. My time to be super obsessed with Rihanna I felt passed in the 4 years since her last album and I viewed her more as a hit singles kind of person. Well two months after the release of this album I finally decided to listen to it and found some songs that I actually really liked. I didn't have a lot of friends who were talking about this album and after listening and finding these gems I really wondered if maybe everyone was thinking of Rihanna as a singles artist like I was. On ANTI, we have the ear worm Work featuring Drake (seriously this song gets stuck in my head all the time), and Kiss It Better. Then there are my personal favorites Woo and Needed Me, I can't stop playing these songs over and over when I'm walking to class. Same Ol' Mistakes takes me back to something that may have been on an album from the 90's and I just enjoy how misty her voice sounds. The album has other great tracks on it but these are the standouts for me but as I continue to listen that is subject to change of course.
---
This is a band that I found thanks to Spotify. I was listening to my discover playlist and of course discovered this amazing group that has a sound that I guess is one that I wouldn't think I would like. They're an Indie Pop band and just...I think the best way to understand is to listen to some of their songs and not go in with a judgment, just listen and enjoy. I've been listening to some of their songs like
Weak
(which was the first song that I heard by this band and literally couldn't stop listening to it on repeat for a few weeks after finding it)
, Deadwater, It's All in Vain
, and my personal favorite at this moment
Don't Wanna Be Your Girl
. I connect to DWBYG on another level because there are people you want out of your life but can't seem to let go at the same time. Their music wouldn't be for everyone but I think it's rather good and worth checking out.
---
Mind of Mine by Zayn Malik
I was definitely in shock when he left One Direction but I wasn't in shock when I love his solo album. Zayn was my favorite member along with Harry so maybe I'm a tad bias here. This album definitely has a theme and I wouldn't suggest this for those who don't like sexual content haha. Still, Pillowtalk was a hit in my eyes as soon as I heard it. I bought it and just played it until I was sick of it...then waited a day and played it on repeat again. I mean the song is just so...his voice makes the song because I don't think I would love it if someone else was singing. I can't stop listening to Like I Would, wRoNg featuring Kehlani, TiO, dRuNk, iT's YoU, clearly I could just go on and on and list every track from this album. I mean when I found out that Zayn was putting out an album I had no idea what direction he would be taking with the sound and image but this is so different from One Direction. This music is more personal and sensual and just real. I like this a lot and I feel he picked music he liked and a sound that worked with his voice. I need to buy the full album so I can listen to it off of Spotify but check this out!
---
Also...
1 Thing by Amerie
Dangerous Woman by Ariana Grande
Get Right by Jennifer Lopez
Jenny from the Block by Jennifer Lopez
Me, Myself and I by G-Eazy
Wild Things by Alessia Cara
---
That's my Music Monday for this month! The tracks that I am just listening to all the time.
What songs that you are loving right now?
What album can you not stop playing?
Let me know in the comments!