October Favorites
Friday, November 13, 2015
I can't believe that October is over, I feel like it was just September...where is the time going?! I figured I would give doing monthly favorites a go, so I can see things that I love too much or not that much. Just good for reflection and seeing products that I find love for again.
It all starts with the face. In October I spent more time sleeping in and not bothering with my face, than I did actually trying new things with my makeup. I kept it basic if I did wear makeup to class just foundation, eyeliner, mascara, fill the brows, bronzer, some lip color, setting spray and done. It took me maybe six minutes to do all of that, give or take.
So first lets talk about my setting spray. I use the Urban Decay oil-control setting spray, I have rather oily skin so this helps control that, obviously. On a school day, I can go at least 6 hours before I start noticing oil start to show on my skin meaning I need to touch up. When I go out I usually have a more thorough makeup routine so the look stays a for longer without oil than during the week. This is the first setting spray that I've ever tried and I have been sold on it since I started using it this summer. I actually am almost out of the one that I used in this picture, but no worries, I have already purchased my replacement.
I used to use highlighter in high school since I had this kit anyways, I love watching Jaclyn Hills videos so when she came out with this I had to get it. This proved to be hard since it kept selling out everywhere but I was able to buy two of them while in Vegas.
Champagne Pop
is an amazing highlight on my skin. I like to blend it in more when I wear it since I feel it looks more natural and when the light hits, ugh it looks so good! It looked so good on me that even my mom was obsessed enough to buy one for herself. I can't stop raving about it to people but having this also makes me want to try other highlights out there cause they really make my face pop.
For my brows I started using this kit I got from NYX and to be honest it made my eyebrows look really ashy, so I stopped using it. Then I went to Vegas with my mom - yes Vegas was a great trip since it just was an eye opening time for me and makeup. Well my mom was looking for a brow pencil or kit and the worker showed us this Hourglass Brow Pencil. The pencil has a brow brush at one end and the actual pencil at the other. The color that I have is Dark Brunette and I have to say I really love this thing, I've found my way of using it finally. The only downside to this pencil would have to be the fact that when you open the pencil end, it just all shoots out. I wish there was more control to keep that was happening cause the pencil may break.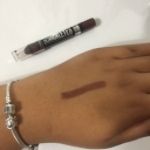 I never used shadow crayons until I saw some you tuber use it in their everyday school routine. Well as soon as I watched that I went to Walmart and bought myself one. The one that I have is the
Rimmel London Scandal Eyes Shadow Crayon
in Bad Girl Bronze. I just swish the crayon on my lid and then use my finger to blend it out on my lid. Then I'll just add some liner or I wear just the shadow and add some mascara. I tend to wear more darker shadows and golds so me buying this color wasn't a surprise. To have this crayon you need to have a pencil sharpener that has a larger sized sharpener.
The Make Up Forever face primer is a heaven sent for my T-zone area. Before starting my makeup I put this stuff down in my T-zone and in the area under my eyes since I get really oily here. I have yet to have a problem with this stuff added to my routine so it'll likely be a favorite for a long time. About the ChapStick, I know this is stuff I have been using since I was in like kindergarten! My mom used to stick them in my backpack and beg me to use them in the winter especially since, lips get dry. But I have finally discovered my love for the colored ChapStick! I used to hate these ones and only use the standard clear one. Now that I am mature and realize that lips should have tints I love the colored ChapStick it's a fav especially on the go.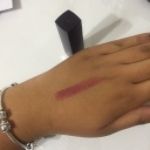 My favorite lipstick has been my
Maybelline "Blissful Berry"
I think this color looks really nice on my lips. It's subtle and definitely isn't too much to wear to class but also wear if I go out at night. I have so many lipsticks from this line at Maybelline and wouldn't mind getting more so there will be a lot more appearances by these lipsticks in the future. The downside is I feel I have to reapply a lot through the night so I usually put a
lip stain
down before I put the lipstick on to get the look to stay longer and I don't have to walk around with that spotty look that comes when the lipstick fades.
The other things in my favorites are makeup. I have this Victoria's Secret scent, Rapture that I am absolutely obsessed with. I got this at one of the sales that they had this summer, which is crazy to me since I don't get why people wouldn't buy this! I bought two of them cause I love the smell so much. It really stays with you and I don't even know how to describe it...it's one of those things you just have to smell yourself.
Can I talk about this candle cause I love this scent. It's kind of like a cookie honestly, smells kind of sweet. My mom doesn't like the scent but I do. I like to light this when I am doing homework since it seems to keep me awake and just leaves the room calm. I like buying my candles from Walmart since they're cheap, $5, and they do the job just fine.
The movies I watch every October without fail have to be The Nightmare Before Christmas and Hocus Pocus. I need to just purchase these already so I can watch them when it isn't Halloween time but maybe when I'm older haha, for now I'll wait until they're on ABC Family.
Lastly, I have to mention some music in here since I'm constantly listening to new things but October had new tunes and me revisiting old ones. What Do You Mean - Justin Bieber, The Way (feat. Chance the Rapper) - Kehlani, Outro: Love is Not Over - BTS, and Hello - Adele. Seriously love these songs and can't stop adding them to every playlist and listening when I walk to class.
Favorites Mentioned
Makeup
Perfume
Other